About Victoria
Born in Lithuania, Victoria came to the United States in 1949.  She grew up in the Philadelphia area and moved to Erie in 1971.  Victoria holds a BS degree in Business Administration from Drexel University in Philadelphia.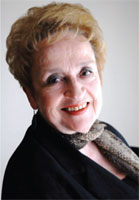 "Desire and Red Wine, A Life's Journey", Victoria Norvaisa's first novel captures  the triumphs and tragedies of one family, taking you from Eastern Europe after WWI, moving thru the horrors and ravages of war in Nazi Germany, and ending in the United States after WWII, where the parents' traditional values conflict with a different culture of modern America. It is a historical and provocative read with many sensual moments of Aurelia's love and laughter, hopes and shattered dreams, as she marries one man and, yet, can't help loving another.  While dealing with commitment, career, and an alcoholic husband, the women's liberation movement slowly raises in her a new awareness of self, of who she really is.
The story is vivid in detail and description; sorrow and humor are intertwined in order to explore a woman's heart.  It deals with the ever-present issues of war, immigration, and women's equality.  Although not a biography, this story is based on her life and experiences.  You can order her book on Amazon, Barnes&Noble, and Books123 web sites and also in Nook and Kindle format.
Victoria is better known in Northwest Pennsylvania for her artwork.  She has studied with and attended workshops conducted by local and national artists.  Her three week painting workshop in Todi, Italy was a great painting, as well as cultural, experience.  She has exhibited her art in local and regional galleries and shows, such as the Allentown Art Festival in Buffalo, NY, at the Stonewall Gallery of Campbell Pottery Barn, at Panorama in Erie, at Shuster Gallery of Gannon University, Cummings Gallery of Mercyhurst University, etc.  Her work has been selected to be shown at the Tom Ridge Environmental Center video art intermission loop.  She is a member of the Northwest PA Artists Association and the Visual Arts at Chautauqua Institution.  Victoria supports the arts and charitable organizations in the Erie area by contributing her work to many benefit auctions.
Her artwork may be seen at the Nature Shop of the Tom Ridge Environmental Center, Glass Growers Gallery, Ralph Miller Jewelers Gallery in Erie, PA, and you are welcome to visit her studio.   Her work can also be seen on her website www.VictoriaNorvaisa.com and on www.representingfineartists.com.